Pharmacy's new game-changing health service
Pharmacy's new game-changing health service
Advertising material
Brought to you by Pharmacy Sleep Services
Saturday 1 May 2021, 09:00 AM
3 minutes to Read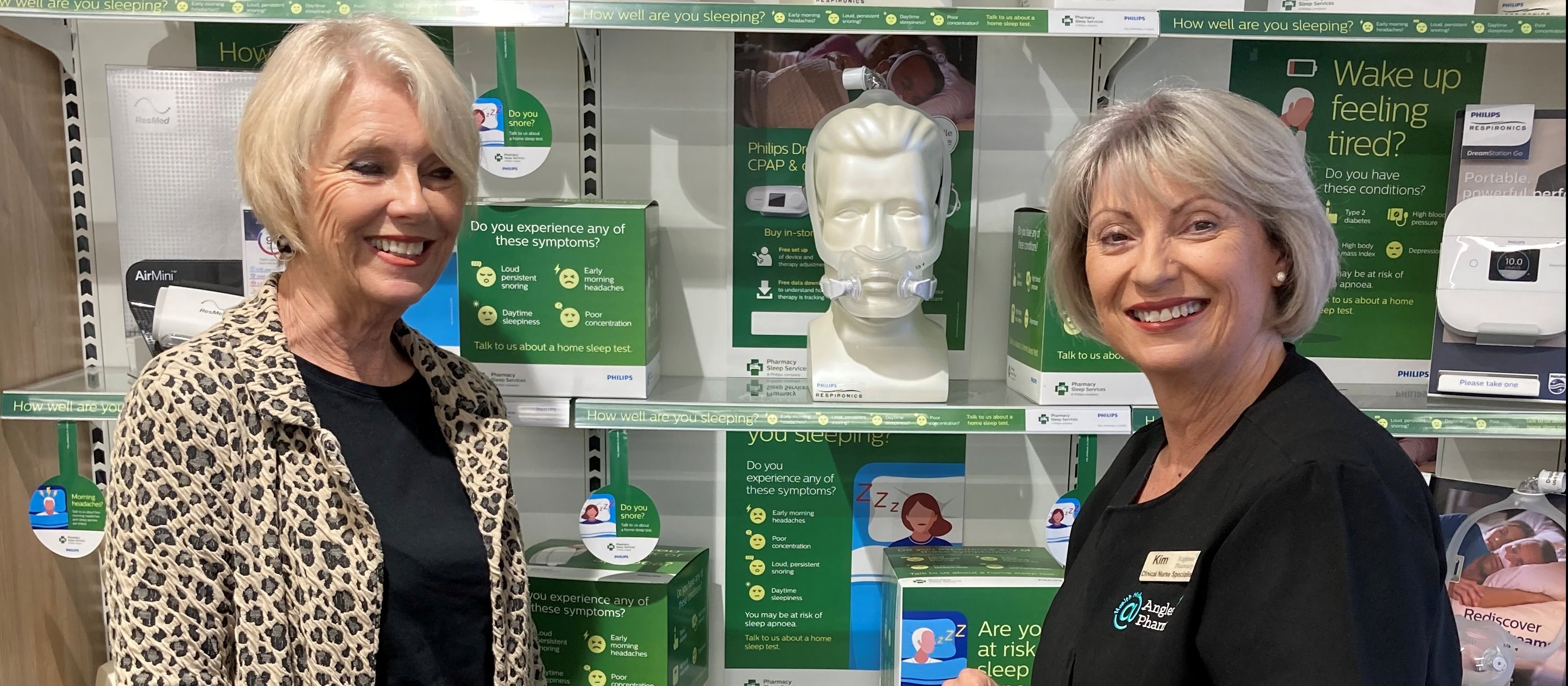 Kim Robb at Anglesea Pharmacy
There are millions of sleep apnoea sufferers yet 80% are undiagnosed
Snoring, daytime sleepiness, morning headaches and witnessed pauses in breathing during sleep are common signs of sleep apnoea; which is when a person stops breathing in their sleep for a period of 10 seconds or longer. Left untreated these can lead to long term health consequences such as Type 2 diabetes, high blood pressure, obesity and depression.
The traditional approach to diagnosing sleep apnoea requires a patient to be referred to a sleep physician for a supervised overnight sleep test. Besides the uncomfortableness of carrying out a sleep test away from their home environment (and being watched overnight), there are costs and waiting times associated with these tests. Once the patient is diagnosed with sleep apnoea, the patient will start their journey onto CPAP therapy which requires several consults with a sleep physician - again at cost and with waiting periods.
Community pharmacy is ideally placed to identify obstructive sleep apnoea in their patients and make a real difference to their lives
As the most accessible healthcare professionals, Pharmacies are ideally placed to offer ongoing support to their patients. With the average New Zealander visiting pharmacy over 30 times per year, pharmacy can easily identify and treat these undiagnosed sleep apnoea sufferers through their symptoms and comorbidities. A large volume of prescriptions going through pharmacy represent sleep apnoea comorbidities:
Samantha at Capital Chemist Charnwood, ACT, Australia said "The majority of patients that walk into our store to pick up their medications possibly have undiagnosed sleep apnoea. And these are the patients that when we're talking to them it's really easy to bring in the topic of sleep apnoea."
Pharmacy Sleep Services provide a simple program for pharmacies to identify, diagnose and treat patients with sleep apnoea
In response to the long waiting times and costs associated with the traditional way to get diagnosed for sleep apnoea, Pharmacy Sleep Services (PSS) has developed an in-pharmacy sleep apnoea program that identifies, tests, diagnoses and treats patients with sleep apnoea. Their at home sleep testing model is convenient and easy for the patient, with no doctor referral required to get tested. This means the community can get immediate access to sleep testing when needed. The sleep test is scored by an external qualified sleep physician and test results are provided within 7-10 days.
The PSS program is run entirely in pharmacy meaning the relationship stays between the patient and the pharmacy. As a Philips-owned company, PSS provides access to the full suite of Philips sleep products, full and ongoing training for pharmacy staff, plus a dedicated Account Manager. They also provide a host of marketing and training support to ensure pharmacies can advertise and drive awareness amongst their community.
"So many of our clients tell us getting their sleep apnoea diagnosed and treated has changed their lives for the better, we are thoroughly enjoying working with Pharmacy Sleep Services to enable us to change lives every day. We have found that PSS have a great team who provide excellent support and training, we really enjoy the relationship we have with them and value their input on how to grow our business and services."
Kim Robb at Anglesea Pharmacy, Hamilton
Differentiate your pharmacy & deepen your relationship with your community
Effectively treating Obstructive Sleep Apnoea (OSA) requires good patient-provider communication and this is where pharmacy is best in class. With years of pharmacy experience and owned by global healthcare company Philips Healthcare, PSS provides an easy, practical, hands-on program with all the support needed to make it a success for the pharmacy and the community.
Over 700 pharmacies in Australia are running the PSS program and making a difference to people's lives. PSS has partnered with The New Zealand Pharmacy Guild to roll out into New Zealand, with already 20 pharmacies across the country now running the program. Guild Chief Executive, Andrew Gaudin, says the new partnership represents a great opportunity for community pharmacy to further improve the health and wellbeing of their patients.
"We chose to partner with Pharmacy Sleep Services as their comprehensive program includes all the in-depth training and support pharmacy needs. They also work with pharmacies to promote the service locally to their communities, something which we know can make all the difference in getting a new service offering up and running."
Deepen your relationship with your community and get in contact with Pharmacy Sleep Services today.
References
Parliament of the Commonwealth of Australia. Bedtime Reading. Inquiry into Sleep Health Awareness in Australia. Canberra. April 2019.
Ministry of Health. 2016. Pharmacy Action Plan: 2016 to 2020. Wellington: Ministry of Health.
Obstructive sleep apnea (OSA). Available at: https://www.sleephealthfoundation.org.au/obstructive-sleep-apnea.html (accessed 15 December 2019).
Bassetti et al. Sleep apnea in acute cerebrovascular diseases: final report on 128 patients. Sleep 1999;22:217-223.
Jose M Marin, Santiago J Carrizo, Eugenio Vicente, Alvar G N Agusti. Long-term cardiovascular outcomes in men with obstructive sleep apnoea-hypopnoea with or without treatment with continuous positive airway pressure: an observational study: Lancet 2005;365:1046–53.
Silversberg et al. Treating Obstructive Sleep Apnea Improves Essential Hypertension & Quality of Life. AAFP 2002;65(2):226-236
Logan et al. High prevalence of unrecognized sleep apnoea in drug-resistant hypertension. J Hypertension 2001;19:2271-2277.
Resnick HE, Redline S, Shahar E, et al. Diabetes and sleep disturbances: findings from the Sleep Heart Health Study. Diabetes Care 2003;26:702–709 [PubMed: 12610025].
Knauert M, et al. Clinical consequences and economic costs of untreated obstructive sleep apnea syndrome. World J Otorhinolaryngol Head Neck Surg. 2015;1(1):17–27.