Pharmacy Alliance members come together in support of bushfire affected pharmacies and communities
+Unfiltered
Pharmacy Alliance members come together in support of bushfire affected pharmacies and communities
Tuesday 4 February 2020, 03:24 PM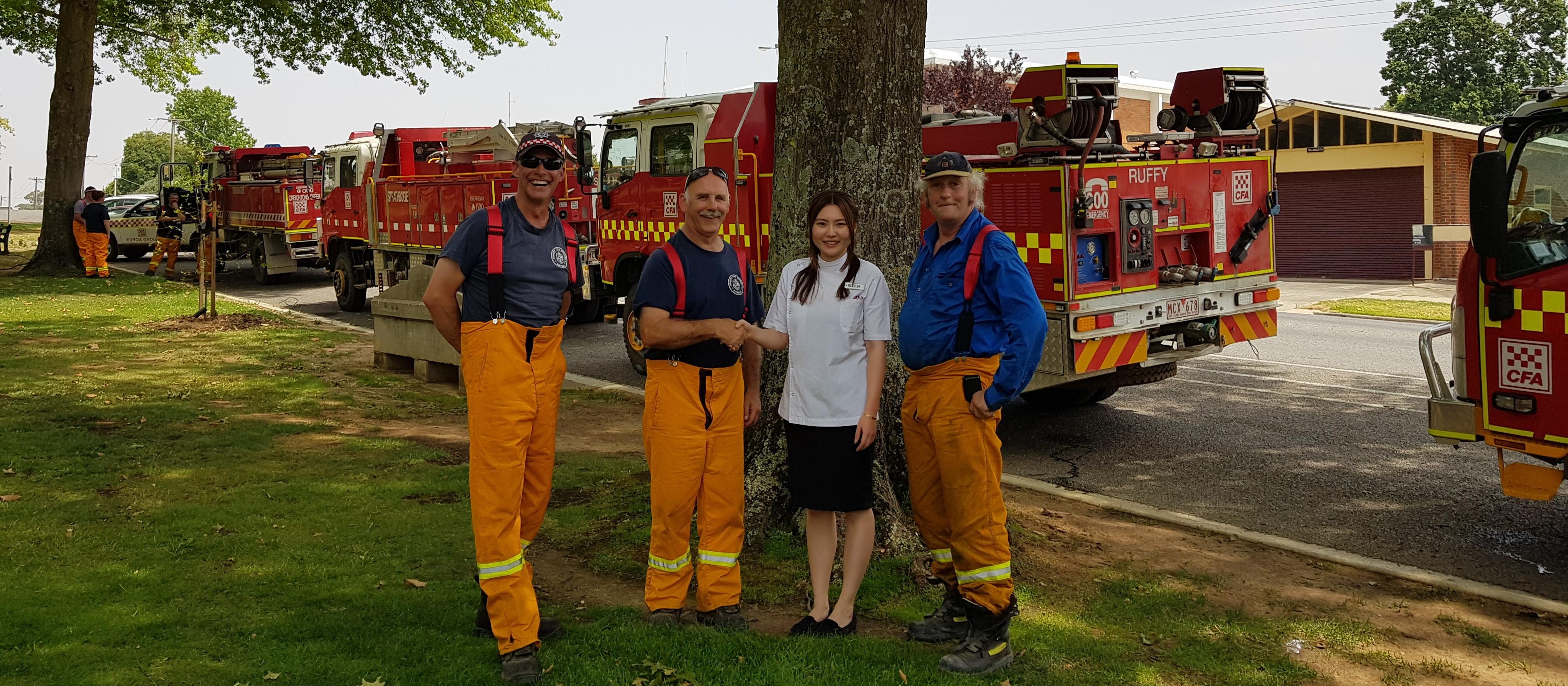 Helen Feng, owner of Alliance Pharmacy - Tallangatta, with local CFA crew
Pharmacy Alliance has established a bushfire appeal, aiming to raise $250,000 to support bushfire affected pharmacies in providing free medication and personal care items to their communities.
Pharmacy Alliance is asking industry partners, member owners and their customers to donate via the Alliance Pharmacy Bushfire Appeal on GoFundMe.
Currently, there are eight Pharmacy Alliance pharmacies across NSW and Victoria operating under bushfire conditions, with limited access to electricity, internet, medications and essential pharmacy products. These include:
• Alliance Pharmacy – Eden Pharmacy, NSW
• Alliance Pharmacy – Corryong Pharmacy, VIC
• Alliance Pharmacy – Lakes Esplanade Pharmacy, VIC
• Alliance Pharmacy – Mallacoota Pharmacy, VIC
• Alliance Pharmacy – Orbost Pharmacy, VIC
• Alliance Pharmacy - Tallangatta Pharmacy, VIC
• Moruya Pharmacy, NSW
• Ballards Pharmacy, NSW
Speaking about the devastating effect of the bushfires, Helen Feng, owner of Alliance Pharmacy - Tallangatta, said the experience has seen the Upper Murray community band together in unbelievable support.
"The Upper Murray region has faced evacuations and Watch and Act warnings since December 30 last year, when fires jumped the river from NSW, forcing many community members out of their home and into an uncertain future.
"It was confronting to see so many evacuees take refuge at the local Tallangatta Memorial Hall, some without the simplest things like shoes or toothbrushes, leaving behind most of their possessions. I was speaking to a seven-year-old girl evacuated from Corryong, devastated at having to leave behind two family pets. It was heartbreaking," said Ms Feng.
"Since the beginning of the Upper Murray fire crisis, so many of our community members have worked tirelessly to support the emergency crews helping us and the communities of our neighbours in distress. Here at the pharmacy we are doing everything we can to assist those in need at this tragic time."
Arrotex Australia is the first industry partner to donate to the Alliance Pharmacy Bushfire Appeal, pledging $40,000 to support of the affected pharmacies.
Mr Dennis Bastas, Chairman and CEO of Arrotex Australia said the company will be donating $5,000 to each of the eight bushfire-affected pharmacies.
"In many of the bushfire affected regions, pharmacy remains a central hub for the community. During this trying time, we believe our ability to help these communities is through the support of their local pharmacy, who can make a positive on-the-ground difference," said Mr Bastas.
In a further show of support, 50 Alliance Pharmacy member pharmacies will donate all non-prescription sales to the Appeal on Thursday 16th January, with customer donations also accepted at a number of member pharmacies across Australia.
Simon Reynolds, Managing Director Pharmacy Alliance said: "Our member pharmacists and teams in bushfire affected areas are working in unprecedented conditions – they are Australia's healthcare heroes.
"Pharmacy Alliance is all about independent pharmacy being 'better together' and right now our members and their communities need our support more than ever. The mission of our Bushfire Appeal is to support the safety of communities in affected areas.
"We hope the number of pharmacies and communities impacted by the bushfires doesn't increase, but we are ready and willing to extend our support if it does," Mr Reynold said.
About Pharmacy Alliance
Pharmacy Alliance is committed to helping pharmacists to grow their businesses their own way. Members receive access to leading pharmacy business solutions and personalised support, enabling them to stay ahead of industry change, improve pharmacy performance, build a more profitable business, and focus on their customers. With three different membership options available, Pharmacy Alliance provides its members with the right infrastructure and support to help them thrive and succeed in today's challenging marketplace. Pharmacy Alliance aims to grow its independent pharmacy network to 1,000 by the end of 2020.
For information on Pharmacy Alliance, head to www.pharmacyalliance.com.au