Hikurangi establishes New Zealand's first legal cannabis breeding programme
+Unfiltered
Hikurangi establishes New Zealand's first legal cannabis breeding programme
Friday 12 April 2019, 03:01 PM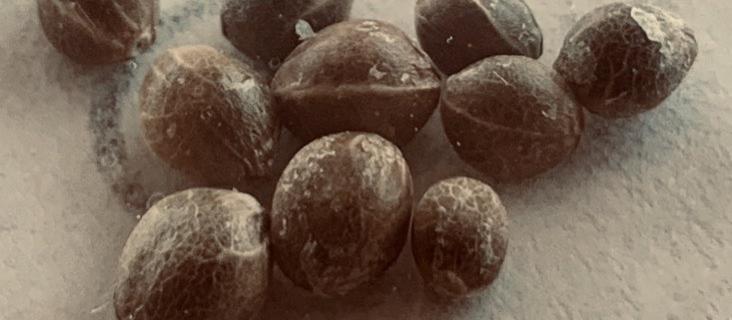 These imported seeds from nine different high THC and high CBD varieties will be used to establish Hikurangi Cannabis Company's first legal cannabis genetics breeding programme Photo credit: Hikurangi Cannabis Company
Hikurangi Cannabis Company has notched up another historic milestone for the legal cannabis industry in New Zealand.
The company has imported a shipment of cannabis seeds as the basis of a long-term breeding programme to develop optimal varieties for patients with specific health conditions in New Zealand.
"The Ministry of Health has confirmed this is the first lawful importation of high THC cannabis seeds cleared for supply direct to a New Zealand company" said Dr Alvaro Vidiella, Technical Director for Hikurangi Cannabis Company.
The seeds from nine different high THC and high CBD varieties will be used to select lines for clinical research and the establishment of New Zealand's first legal cannabis genetics breeding programme that Hikurangi is establishing this year.
Having navigated the import pathway, Hikurangi will increase the variability of their germplasm genetics databank through the addition of more varieties from the main growing regions that will add to our local New Zealand varieties.
"The government's provision in legislation to enable access to local plant genetics presents Hikurangi with a great opportunity to strengthen our relationship with New Zealand breeders to identify, assess and protect local strains" said Dr Vidiella. "This ultimately will enable Hikurangi to offer the best possible selected varieties to New Zealand farmers interested in getting a license and working with us."
Manu Caddie, Hikurangi CEO said "New Zealand has an excellent track record in horticultural breeding programmes such as the success of new cultivars seen in the kiwifruit and apple industries that deliver superior quality and command a market premium - we intend to follow a similar pathway with our cannabis breeding programme."
Dr Vidiella says it has been a challenging process to identify a seed supplier with adequate genetics that could meet the strict biosecurity requirements of the Ministry for Primary Industries. While thousands of cannabis seeds are imported illegally every year with no biosecurity controls in place, the government requires very specific phytosanitary certificates to be issued for imported seed by the National Plant Protection Organisation in the country of origin to confirm the seeds have been produced in a disease-free environment.
"We explored importing seeds from numerous international seed merchants, research organisations and commercial breeders until we found the right supplier, and we are very excited to now have the seeds in New Zealand for our scientists and plant breeders to start working with."
Dr Vidiella has a background in horticultural engineering and is working with a team of three Hikurangi scientists and four experienced cannabis breeders in Ruatoria. The Hikurangi research group is breeding for optimal plant characteristics in terms of bioactives, yield and resilience.
"We are working on a comprehensive research programme and developing strong alliances with local and international research institutions, to align our breeding program and clinical research with the most recent scientific knowledge on the potential use of medicinal cannabis to treat different conditions" says Irene Lopez-Ubiria, Chief Research Officer for Hikurangi.
"Having recently met with world experts at the United in Compassion Australian Medicinal Cannabis Symposium, we are confident in the role Hikurangi can play in the global medicinal cannabis sector with affordable, top quality products backed with rigorous science."
The company is currently negotiating supply agreements with buyers in Europe, Asia and North America and has plans to supply New Zealand pharmacies and export a range of medicinal cannabis products once commercial licenses are issued in early 2020.
Hikurangi Cannabis Company is New Zealand's first medicinal cannabis company to become a member of the Sustainable Business Network. New Zealand's largest and longest standing organisation dedicated to sustainable businesses, the Sustainable Business Network is an organisation of businesses, social entrepreneurs and government agencies united by their desire to create change for good, helping New Zealand to become a sustainable nation.
Hikurangi Cannabis Company has also co-sponsored the publication and launch of the 'Cannabis & Sustainable Development' report, delivered to the United Nations Commission on Narcotic Drugs meeting in Vienna in March.
The report, developed by the international drug policy organisation FAA (For Alternative Approaches to Addiction, Think & do tank), outlines a recommended pathway for the implementation of cannabis policies aligned to international Human Rights standards, the 2030 Agenda for Sustainable Development and the UNGASS outcome document.