Pharmacy mergers needed to thrive
Pharmacy mergers needed to thrive
Hosted Content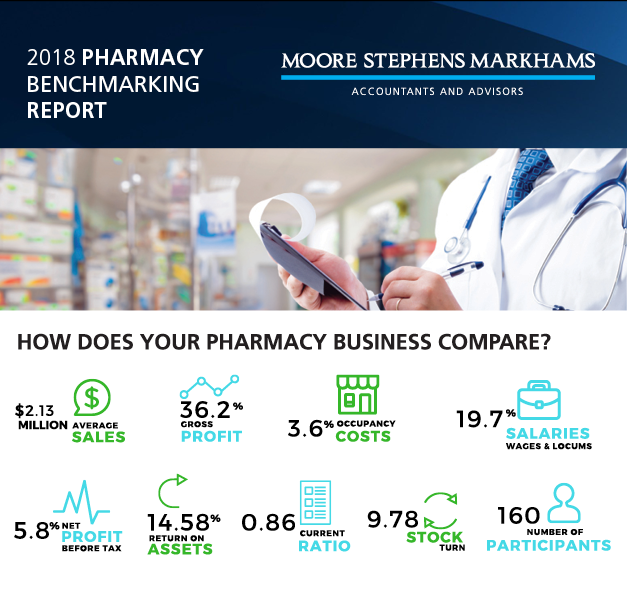 KPIs – how does your pharmacy business compare?
Pharmacy benchmark report reveals increasing strain on businesses.
Careful planning required for long-term viability.
Owners of smaller pharmacies should consider whether they might benefit from merging with another business to ensure their medium to long-term viability.
Succession planning imperative; mergers an option
This is the advice offered on the back of the latest national pharmacy benchmarking survey that was released this week by chartered accountancy and business advisory group Moore Stephens Markhams.
One bright spot is the recently approved ICPSA contract that has measures to assist pharmacies with their margins.
Smaller pharmacies not sustainable?
Smaller pharmacies were not generating the same level of profit as their larger counterparts.
This was calling into the question the sustainability of these smaller operations, says Jonathan Roberts, an associate with the chartered accountancy and business advisory firm responsible for coordinating the survey.
Roberts noted also that Auckland pharmacies were, on average, generating less revenue than those outside the region, indicating an oversubscription of pharmacies.
The net profit achieved by Auckland businesses is also less than those in the South Island and in the rural regions.
Mergers recommended
"We are being approached by pharmacies considering merging and would encourage pharmacies around the country, and in Auckland in particular, to keep an open mind to the idea," says Roberts.
"Merging considerably reduces overheads as a percentage of overall revenue and achieves economies of scale as a bigger business. If marketing is maintained and there is no new competition, then generally the combined business retains its customer base and should make better profit."
Financial strain
Once again, the annual survey conducted across the country reveals that the ever-evolving competitive marketplace and constant cost pressures continue to put pharmacy businesses under financial strain.
Gross and net profits, plus mark-up rates have declined over the past six years while most other costs have held relatively steady, which suggests that business owners are paying strong attention to their financial performance, Roberts says.
Net profit decreased by $12,000 for the average pharmacy over last year. The average gross profit dropped by $3000.
Succession planning a strong option
Succession planning is another factor that pharmacy owners would do well to start considering, says Roberts.
Merging was one option that could serve this purpose but selling to existing staff or putting the business up for sale on the open market were others.
However, Roberts notes that open market prices have come back on where they were 12 or so months ago.
Staged buy-ins for younger pharmacists
"Many pharmacy owners are more than half way through their careers and if a plan is put in place sooner than later, the chances of a successful exit are far more likely.
"It's important to recognise that it's harder for younger pharmacists to get funding without assets or property as leverage. We're suggesting that staged buy ins over a period of years makes it more of a realistic proposition, which again requires forethought and planning."
ICPSA contract a bright spot for margins
One bright spot on the horizon is the recently approved ICPSA contract that has measures to assist pharmacies with their margins, including increased funding for high cost medicines and special foods.
Average margins have declined on previous years and Roberts says the new regime will help "stop the bleeding".
"Pharmacies are legally required to dispense identified products, even at a loss, so it's helpful that the Government has recognised the unfairness of this."
He says that the APAS Revenue should be tracked as a separate pharmacy-specific revenue stream.
Return on asset ratios declining
The survey findings show that return on asset ratios are declining, down from 22.13 percent in 2014 to 14.58 percent this year.
"Many business owners are not receiving an adequate return on their investment to compensate for the amount of work and risk involved in running the business," says Roberts.
"It's particularly important for anyone looking to purchase a pharmacy business to be careful with the purchase price paid. It's critical to not borrow too much."
160 pharmacies surveyed
The national chartered accountancy and advisory network, Moore Stephens Markhams works with over 150 of New Zealand's community pharmacies.
Again, this year the survey was opened to businesses that are not clients of the national group – 160 pharmacy businesses participated.
A copy of the report can be obtained from one of the pharmacy specialists in the Moore Stephens Markhams group. These specialists can be found at www.markhams.co.nz
Mandatories
Copyright © 2018 Moore Stephens Markhams Chartered Accountants and Business Advisors
Moore Stephens Markham is a network of independent firms that are each members of Moore Stephens International Limited.
Moore Stephens Markhams independent member firms in New Zealand are located in Auckland – Christchurch – Dunedin – Hawke's Bay – Wairarapa – Wanganui – Wellington.