It's the final countdown!
It's the final countdown!
Hosted Content
The ELearning team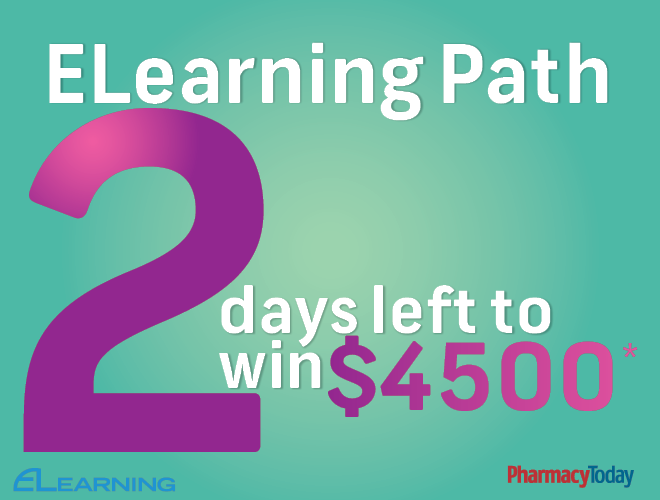 Two days left to finish the 2018-2019 Healthcare Handbook ELearning Path
The results for the first year's path are coming along amazingly! So far, the path has awarded over $15,000 in prizes, engaged 750 new users, tracked 3000 course completions and clocked 2000 hours of study time!
We are entering into the last week of this 2017-2018 Healthcare Handbook ELearning Path, and there is still time to get entered into the draw! Directions and prize information are below.
 
Directions
Pharmacy Today: Read the new Over The Counter education article by Carmen Fookes monthly
Healthcare Handbook: Read the corresponding Common Disorder chapter in this book
ELearning: Login or register, then complete the quiz within Healthcare Handbook ELearning Path tile
Repeat: Each month Pharmacy Today will load the next course in the path. Complete all 11!
Incentives
By passing each course, the learner will earn two ELearning points and an entry into a monthly $500 prize draw. When they earn 27 points by completing the ELearning Path, and a bonus course or two, before 30 June 2018, they'll be entered into a grand prize draw for a $4500 voucher.
We know it's tough to find time for your team to complete professional development, so this is an easy plan to tackle their learning. By squeezing in a little bit, often, your team can make their learning count.
It's back!
Your 2018-2019 Healthcare Handbook is on its way to your pharmacy. This valuable resource is provided free as part of your 2018 Pharmacy Today newspaper subscription and is made possible by the generous support of those companies who have placed advertisements in the publication. If you need an extra copy for your staff to start the next Healthcare Handbook ELearning Path, please email us at enquiries@thehealthmedia.co.nz
The Healthcare Handbook is a quick reference guide and memory jogger when advising a customer about the OTC products and treatments best suited to their needs. With the introduction of last year's Healthcare Handbook ELearning Path, the Healthcare Handbook became a key training tool for pharmacy staff and students.
Finally, the Healthcare Handbook is a MedSafe audit-approved text and we recommend you discard older copies of the publication that you may have on hand and replace them with this updated version. You can be assured of the Healthcare Handbook's accuracy and independence. The content has been reviewed for 2018 by our technical editor Carmen Fookes.
Thank you for your continued support of Pharmacy Today and the Healthcare Handbook. We appreciate it.